MIUI 11 is announced by Xiaomi along with their 2 new Redmi flagship device, Redmi Note 8 and Redmi Note 8 Pro. MI fans have been waiting for this update for a long time. 
MI has almost 9 crore users in India. so naturally MIUI 11 is specially tweaked for Indian users.
it offers so many cool features like dark mode, always-on, Live video wallpapers, new keyboard and so on. now let's go through each of these features individually. 
Redmi Note 7 Pro RS.4000 off on Diwali Special Sell
1. Dark mode and visual improvements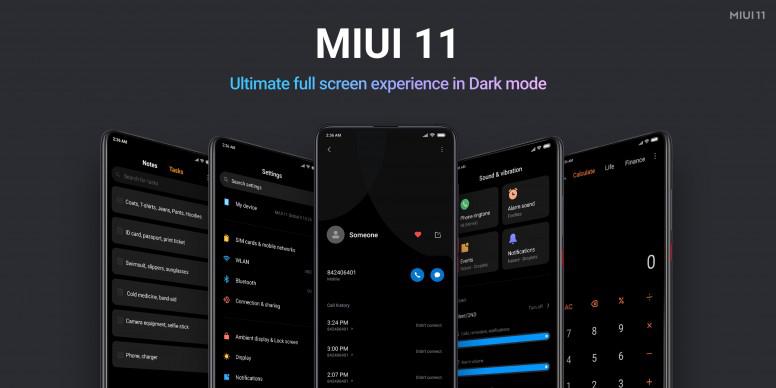 The first change that has been introduced in MIUI 11 is visual improvement along with dark mode. MI has simplified the design of UI Removed unnecessary colors to make it look simple and attractive. 
UI is now modified to give users better full-screen experience. Following the current trend, they have also provided a dark mode in MIUI 11. 
2. MIUI 11 – Always On for K20 Series
All the smartphones look almost the same when they are just sitting locked. in order to change that  MIUI 11 has time clocks on display, which always stays on. 
They have also added animation to some of these clocks to give them a dynamic look.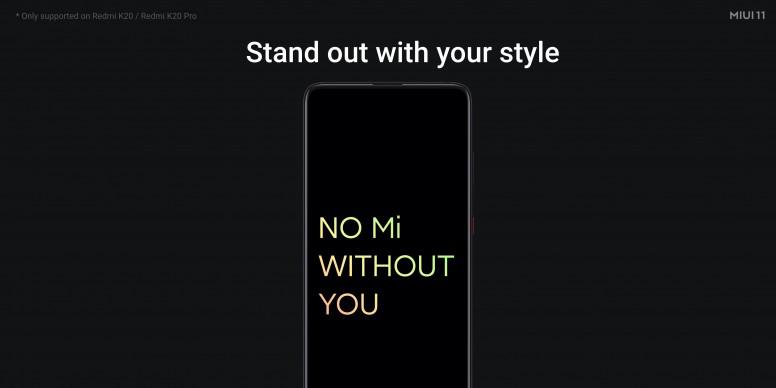 Not just clocks but you can and also add your own texts there. You can also customize the colors, alignment, size, and font of these texts.
3. On Display Flash and Notification
Many smartphone companies are getting rid of the breathing light. In general daily use, breathing light is quite useful. So MI has readded it in MIUI 11.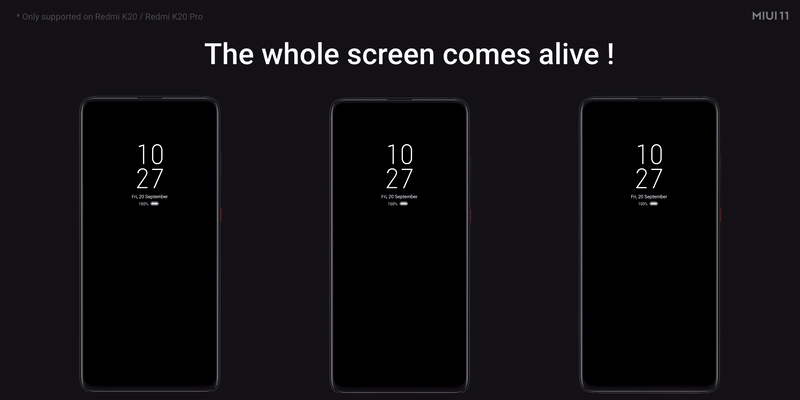 By using their always-on feature they have also improved it. Now, whenever you get notification your display flash is from the side. just like you can see here. 
Note: always on and new on display flash is only available on Redmi K20 and Redmi K20 Pro.
4.Dynamic video wallpaper in MIUI 11
You might have heard about dynamic wallpapers,  which are basically wallpapers with some animations in it. but this video wallpaper is something new.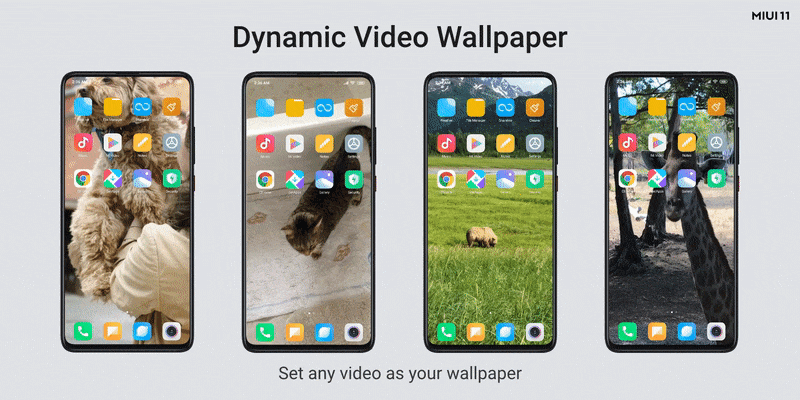 MIUI 11 allows you to turn your own video shoots into a wallpaper. For example, now you can keep your video of your lovely pets or cute baby on the screen all the time.
5. Changes to Mi works
Many of Mi smartphones users are office workers. That's why MIUI 11 has 3 major modifications to the work apps.
1.Docs
This most necessary app for all the office workers. Previously you were able to access all the documents from the MI file manager, but it all looked messy and unorganized. 
MIUI 11 solves this problem as they have thumbnail options for all the documents and they are organized by category.
New UI also adds the ability to preview all different without using any additional app. 
now you don't need to launch Word, PowerPoint or any other app to quickly check your files. this could be really time-saving for some people.
2.To-do list 
To-do list is part of everyone's daily life and now you don't need to install a 3rd party app. Because now mi smartphones will have it by default. 
Mi has also added some really useful features to this app. The first of them is that you can sync it with the calendar.
To check your to-do list real quick you can also access it by sliding on the homepage. You can also use voice recording to add your tasks.
3. Calculator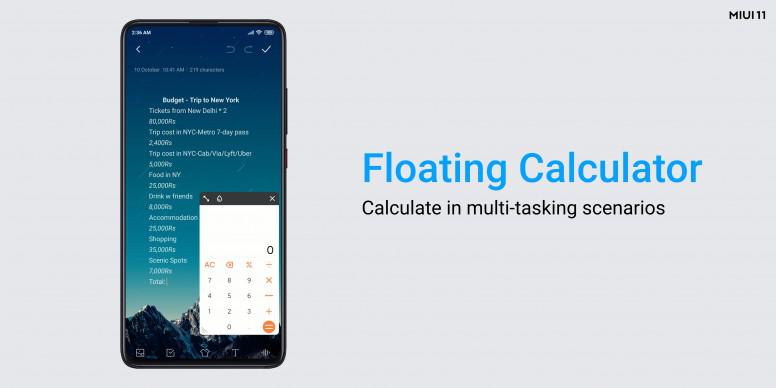 A couple of years ago we used to use an actual calculator but now it's completely replaced by a smartphone calculator. Now mi has made it even a little bit better.
MIUI 11 offers you a floating calculator. At first glance, it doesn't sound very interesting but it actually has many practical uses.
For example, you have a list of expenses stored on word file. If you want to sum that up at the end of the month you going to need to switch between calculator and word constantly. Since floating calculator pops anywhere it will make this task easier for you.
Now Mi calculator also has Age calculation, EMI calculation, GST and 5 other calculators. So now you don't need multiple apps for different calculations.
6. Step Tracker 
This is not very huge and now every other smartphone company provides an inbuilt step tracker. Mi is a little late to offer it but finally, they also have a step tracker app in the new MIUI11.
7.Menstrual cycle tracker
This has to be the least interesting feature in MIUI 11 for us but it could be very useful for women. Just like the title says, now you can automatically track due dates using calender. 
8. Most useful feature of MIUI 11 – Quick Reply
Now, this is most interesting so badly needs a feature. Let's say you are watching your favorite movie or about to take down the massive boss in-game. And someone calls you or texts you just to annoy you, That's where this feature comes handy.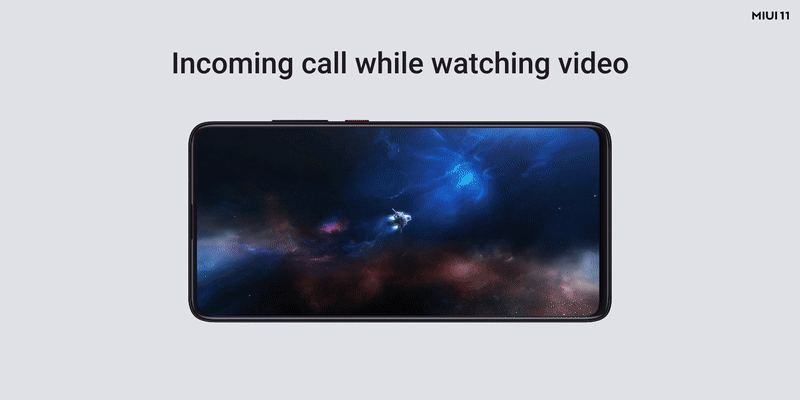 When you are in full screen and you get a call it shows up in notification. Now that notification has quick reply option. What that does is that it will create a small box in the corner showing callers and reject buttons. you can talk in the background without exiting the current app.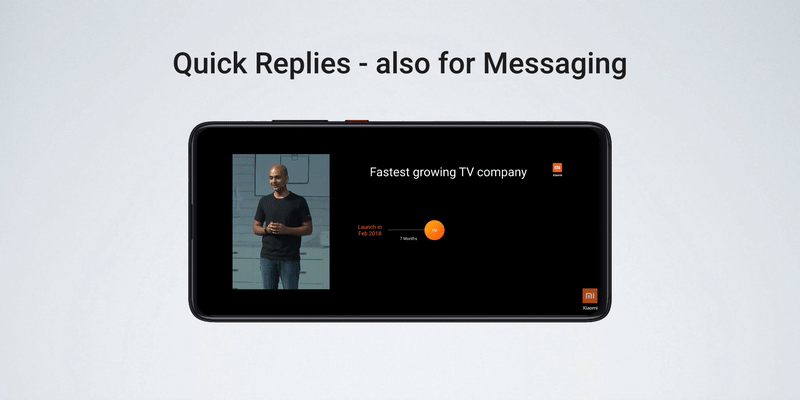 Quick Reply is just not limited for calls it also works for messaging apps. So now you don't need to quit your game to quickly reply to your friend on WhatsApp.
You can customize a quick reply to different apps. Meaning you can set a quick reply on or off for different apps.
9. Language and keyboard 
The original keyboard is mainly focused on English but India has so many different languages. And some things are only funny and interesting in Hindi. Mi's new "mint keyboard" is focused on that.
Mi is calling this "translations within transliterations". when you type in English it automatically translates it in Hindi and not just translate but also types it in Hindi. This can make life easier for those who prefer to type in Hindi.
When you typing in English you also see emoji suggestions according to words. Mint keyboard also does that for Hindi meaning if you type "dil" then keyboard will automatically show heart-based emojis. Once again very useful for those who still prefer to chat in Hindi.
Now all of these features looks pretty cool and we can't wait to try out them. It raises the question of when is the MIUI 11 is releasing for Redmi smartphones.
Release Date of MIUI 11
MIUI 11 will roll out in 4 phases for different Redmi devices.
phase 1
22 – 31 October – Poco F1, Redmi K20, Redmi Y3, Redmi 7, Redmi Note 7, Redmi Note 7S, and Redmi Note 7 Pro
phase 2
4 – 12 November – Redmi K20 Pro, Redmi 6, Redmi 6 Pro, Redmi 6A, Redmi Note 5, Redmi Note 5 Pro, Redmi 5, Redmi 5A, Redmi Note 4, Redmi Y1, Redmi Y1 Lite, Redmi Y2, Redmi 4, Mi Mix 2, and Mi Max 2
phase 3
13 – 29 November – Redmi Note 6 Pro, Redmi 7A, Redmi 8, Redmi 8A, and Redmi Note 8
phase 4
18 – 26 December – Redmi Note 8 pro
MIUI 11 is announced. find out about the release date and all cool features like Quick Reply, live video wallpapers, improved calculator and keyboard.